Description
Exclusive design for 100% "PLUG & PLAY" replacement on all Cummins B & C Diamonds
"Detroit Style" mechanical water seal w/ aft-mounted double lip oil-lubed "oil seal"
Made from proven seawater resistant alloys of bronze, brass & stainless steel
Simple rebuilds using commonly available tools, bearings & seals
Backed up by an exclusive 24 month "no hassle" pump exchange policy
This all started about 1988…
When Cummins released the (infamous to some) 6BTA 300, sometimes referred to as the CPL 970. About that time Sherwood and Cummins struck a deal that allowed Sherwood to become
the exclusive supplier of seawater pumps for them.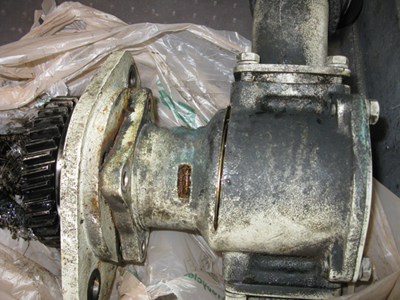 What I call "Design Defects" in the new Sherwood Pump that was installed on the new generation Cummins 300B marine engines (1700 series) became apparent soon after its release, and over the 16-17 years that followed, as Sherwood made different versions of this same "base pump," the number of design defects grew along with the new models. Now keep in mind, as we are not talking about seal and bearing wear/failures here, we are talking about real defects in design that I have never seen with any other seawater pump I have dealt with. By the time their most popular version was released, the 1730 (in about 1995), soon thereafter it was obvious that something had to be done to help solve this seawater pump failure dilemma that was now causing direct harm to my livelihood because this pump was being installed on the new Cummins Diamonds that were now the mainstay of my engine sales and repower part of my business.
As more years past and the flak I was getting about the quality of the Sherwood pumps grew, by early 2005, it was time to become proactive in developing a new pump that would "fit" as a 100% "plug & play" Sherwood 1730 replacement and try to do something that could make this pump more reliable… Our biggest challenge was working around the size constraints of the application as this new pump had to FIT exactly as the 1730 did or we could not market it successfully…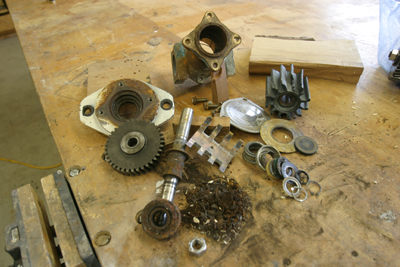 Because of this, we even had to compromise some on both bearing support and shaft size, which was where this pump needed much improvement. Solving the material choice was easy as all we had to do was not use the "junk" metal alloys, but go back to basics-Use proven seawater resistant alloys that have been used for decades by other prominent manufacturers of seawater pumps.
After some searching around, I found a respected company in Korea (already in the seawater pump business) that was willing to work with me in a new design. I had lots of ideas but absolutely no experience in trying to manufacture a seawater pump, and being a "small guy," had limited funding available for the development. What I did have was the knowledge of what can make a good seawater pump, a marketing plan, and also what we had to do to make the needed improvements. Well about 18 months of work with 100's of e-mails and drawings going back and forth, we came up with what is our SMX 1730 (& SMX 1727) seawater pump and now offer what we think is a superior "mouse trap". Our improvements speak for themselves and address all of the issues that are inherent with the Sherwood pump design. Cost ??-of course the new pump cost more than we hoped for, but with the cost of copper-based alloys tripling from early 2005 thru mid 2006, this did not help.. But in the end, we are still price competitive and now offer the end user a "choice" for the seawater pump used for the very popular Cummins 6BTA 5.9 and 6CTA 8.3 Diamond (and commercial counterparts) diesels.